Or, as this post could be but definitely isn't subtitled: how you too can look like a jihadist in fleece.
Truly and honestly, the slightly unfortunate nature of this pose did not occur to me until I was on the other side of the camera, downloading - I was just trying to show off all my cold weather defences at once. And then the first thing that sprung to mind was the rather beautiful traditional dress of the Tuareg - the "blue men" of the Sahara.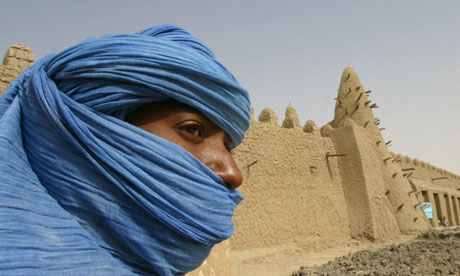 The hot-weather version - click for source
But then - war in Mali, hostages in Algeria. I don't know what to say (or actually even think) about these things, and I could just not mention it, I suppose. But although this is and will remain my little sewing bubble, it would seem a bit wrong not to acknowledge where that whole thought process went - ignoring such things does us all a disservice. However, for the moment I shall not be stepping, well-intentioned and ill-informed, into current affairs. I suspect I may be of more use to humanity in sharing my tips on how to sew yourself some maximum wind-chill protection. Would you like details?
Oh, I'm so glad you would! :-)
The mittens were what started it. Two Saturdays ago I went out with T and got very cold hands, and came home and looked up a tutorial for fleece-lined mittens and had them sewed up in less than an hour, and then went out again, this time with much less cold hands (to begin my search for a serger - but that's another story!) By the time I got home again, I had already designated the first mittens a trial version, and these little beauties are my second, victoriously successful pair:
And once I had the fleece out anyway, it was but a small step towards a matching hat and cowl.
Further adventures out of the house demonstrated that the cowl was too draughty to be sub-zero effective, and thus there followed something that I believe gets called a neck gaitor, but what I shall glamorously call a fleece neck tube, to go underneath (because a gaitor is for your legs, and sounds silly besides).
With the fleece neck tube worn up over your nose, this get-up is warm. Warm like, I took off one glove for 30 seconds on Sunday and my hand hurt with the cold for 10 minutes afterwards - while the other one was too hot. I start sweating on the short walks in the snow, without exerting myself in the slightest.
Having pulled together this lot over a week of 15-minute sewing here and there, I figured I would quickly round up the tutorials and techniques I used, because if you're organised and have a free couple of hours I don't think it would take much longer than that. Which could be helpful for those in colder climes (sorry, Antipodeans! Hope you're enjoying your summer!)
Materials:
Lining and neck gaitor: fleece! For all of these items make sure to cut your pieces with the stretch going from side to side, not lengthways.
Outers: for the hat and mittens (blue fabric) I used an old sweater, not felted because it wasn't wool and wouldn't shrink :-)
The yellow mittens outer piece is a shrunk piece of boucle wool.
The blue side of the cowl is cotton jersey. Feels nice and cool, in contrast to the fleece, but adds an extra layer of warmth.
And finally, ribbing for the mitten cuffs.
Depending on the size of your stash, you may or may not already have this at your disposal. I did (the shame! I shocked myself with the contents of my 'leftovers' box!)
Mittens
I first used this tutorial and free pattern: a very quick sew because there's no cuff. I found this to be a disadvantage, so...
My über-successful mittens are based on the purl bee's free pattern. The shaping of these is lovely.
I cut a slightly increased seam allowance of 1 cm (3/8") around the outside, i.e. a 1/8" increase, and added a full 1.5cm (5/8") seam allowance at the wrist.
Sew the outer and lining according to the instructions in the first tutorial (purl bee's mittens aren't lined so the tutorial doesn't include instructions for that).
The cuff: sew a tube of ribbing twice the length you want your finished cuff, plus a bit for the seam where you'll attach it to the glove (I stretched the ribbing around my wrist to decide the width of it).
Sew the ribbing to the outer piece, right sides together, and then stuff the glove part inside the tube of ribbing. Sew the other end of the cuff piece to the fleece lining, leaving a 2.5 cm (1") hole.
Turn the glove right side out by pulling the entire thing through the hole between cuff and lining.
Sew up the hole by hand.
Look how cosy! And no-one will ever see just how rubbish my hand stitching is!
Hat
I used this pattern, cutting the same shape for the outer and inner fleece hats.
But, I sewed the sides together instead of knotting them, using a slightly smaller seam allowance for the outer hat.
Just like for the mittens, wrap the ribbing around your head to decide how tight you want the band to be, then cut a piece double the finished length you want.
Sew the short ends of the ribbing right sides together to make a loop.
Sew this loop to the outer hat, right sides together, then to the fleece lining, also right sides together and leaving a 1" gap.
Pull the hat right side out through the gap, and hand-stitch it shut.
Cowl
Cut two identical lengths of fleece and jersey (or other desired outer fabric - but it'll work best with a bit of stretch in it). Mine were one fabric width (150 cm) by about 30 cm.
Sew it into a looped cowl like this (and don't again end up sewing it inside out. Yes really, again).
Fleece neck loop thing (otherwise known as a neck gaitor)
Cut a piece of fleece about 30 cm long. The width should be about the circumference of your head (over your ears) plus a bit. Fleece does stretch but mine's a bit tight and it's a little fiddly to get on. However, too loose and it'll be draughty and thus not fit for purpose.
Sew it into a loop along the 30 cm sides, right sides together.
Hem the raw edges if you like - I didn't!
Done! Now get out there and attack that snow!
Cold weather don't bother me, oh no. I sewed myself some warm.